Disabling Inline replies in Outlook
How to disable inline replies in Microsoft Outlook

If you would prefer Outlook to open a reply in a new window, this can be achieved by disabling inline replies.

Switching this feature off also assists under-resourced machines, since it is more resource intensive for the workstation to do an inline reply rather than open the reply in a new Window.

In Outlook go to File > Options > Mail and scroll down till you get to Replies and Forwards: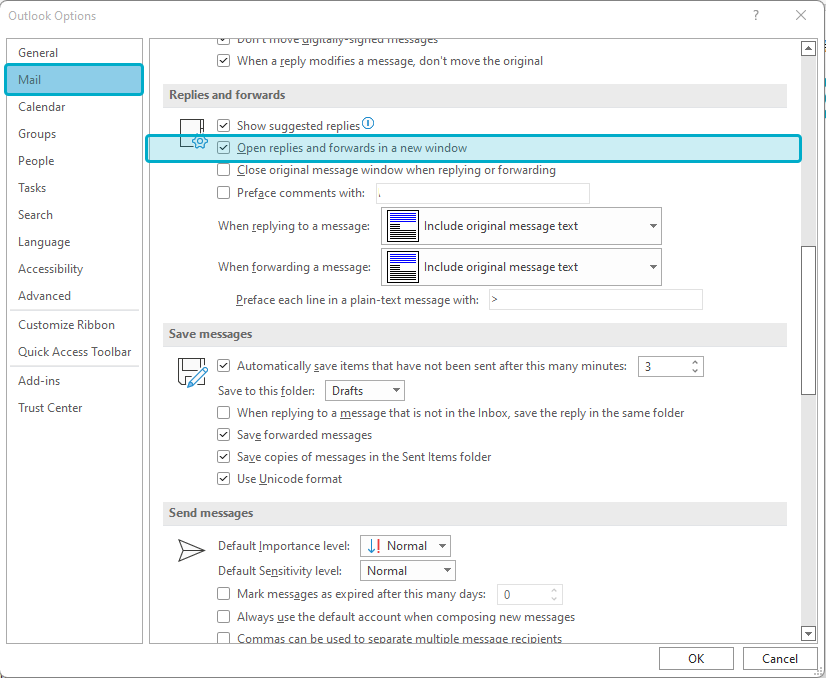 Related Articles

Clearing your Old Outlook Email Signature

How to Clear your Old Outlook Signature If your old Outlook signature has not been cleared from Outlook, you may experience problems with Outlook appearing slow, restarting or hanging. This is due to the conflict between your old Outlook settings and ...

Clearing Your Old Outlook Signatures (Forward and Replies)

How to Clear Your Old Outlook Signatures It is a good idea to check and clear your old Outlook settings before installation to ensure your old signature does not interfere with your new BrandMail signatures. 1. In Outlook, go to: File > Options > ...

Change Spelling Settings in Outlook

Does BrandMail change spelling settings in Outlook? No. BrandMail contains no code to edit the spelling settings in Outlook. There are inconsistencies in Outlook, so if you believe your settings may have changed during installation our an Outlook ...

BrandMail: How to complete your Settings in BrandMail and synchronise your toolbar(s)

1. Go to the BRANDMAIL tab in Microsoft Outlook 2. Click on the Settings button A new Settings dialog will be displayed 3. Make sure the URL, Database and Base Locations have the same values in the screenshot. 4. Fill in your Username and Password in ...

Setting up your BrandMail

Setting up your BrandMail 1. With a new email open, click on the BRANDMAIL tab 2. Click on Settings In the settings dialogue: Input the username and password provided to you. Username: your email address Password: password provided by your ...