Adding Animated Survey Banners

How to add animated survey banners
Animated Survey Banners are email banners which can appear either above or below your organization's email signatures. The banners themselves are the visual mechanism to link through to BrandMail Surveys created in the BQIgnite platform by toolbar administrators. Animated Survey banners have the added visual appeal, and draw your recipients to click on your survey links.

Before getting started with adding animated survey banners, make sure that you have set-up the survey or surveys that you would like your animated survey banners to link to. These surveys are created in the BQIgnite brand consistency platform. Also see:
how to create surveys
.
Just like
Animated Banners
, Animated Survey Banners are not designed in the content editor, but are simply uploaded to your BrandMail toolbars as animated GIFs. You should therefore make sure that your animated survey banners are the correct width to match your signatures (most signatures are 700px wide), and that your animated GIF does not exceed 1MB in size. Remember, not all mail clients are able to view animated GIFs (older versions of Outlook). So when in doubt, you can also opt to rather load a static animated survey banner.
Locate and open the BrandMail toolbar where your survey banner needs to appear via the BQIgnite platform

Right-mouse click on your Survey folder (or sub-folder) and select Add Animated Survey Template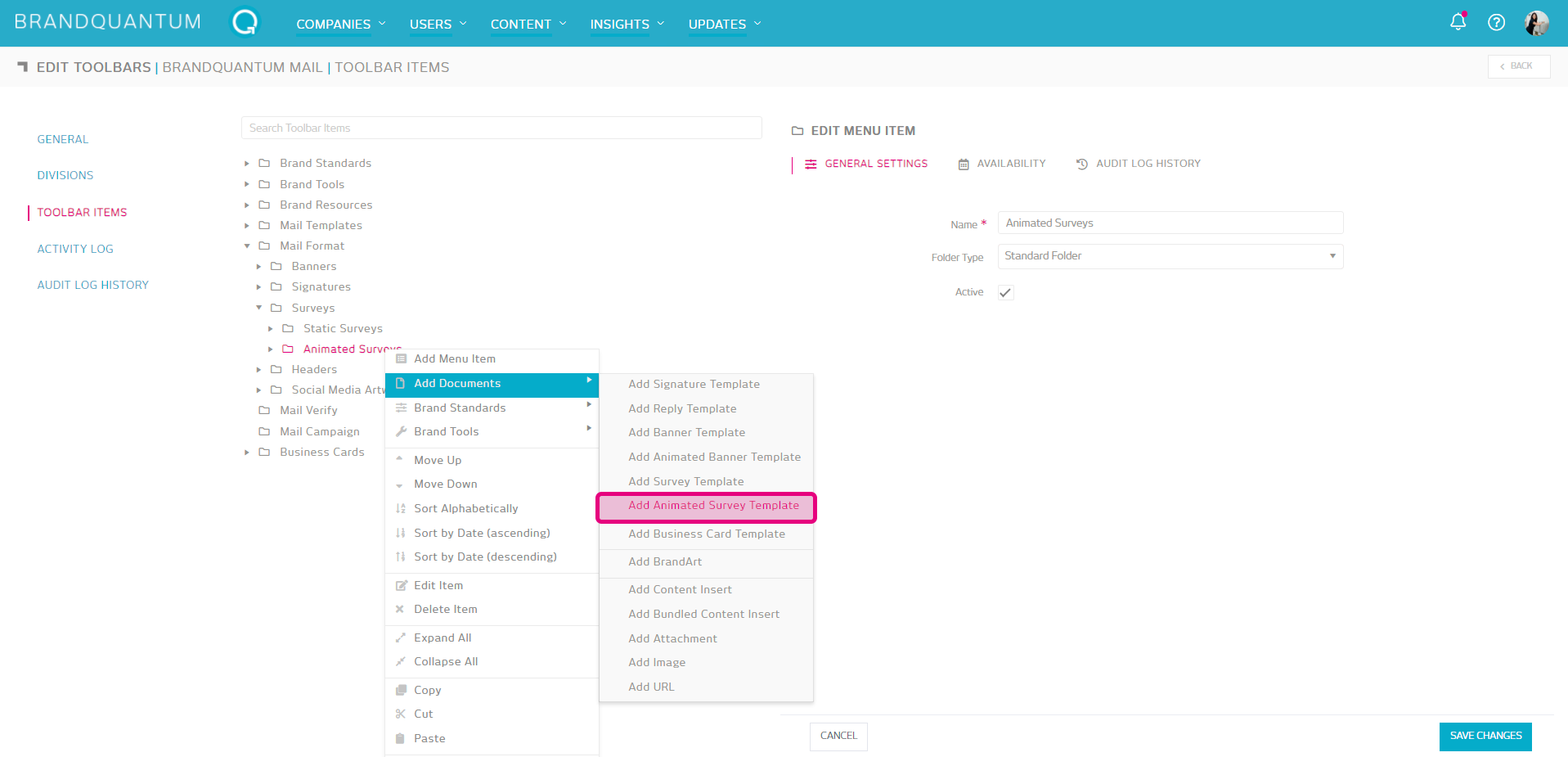 Add Animated Survey Function
Locate the animated GIF on your hard drive an upload to the toolbar by clicking UPLOAD ANIMATED SURVEY TEMPLATE button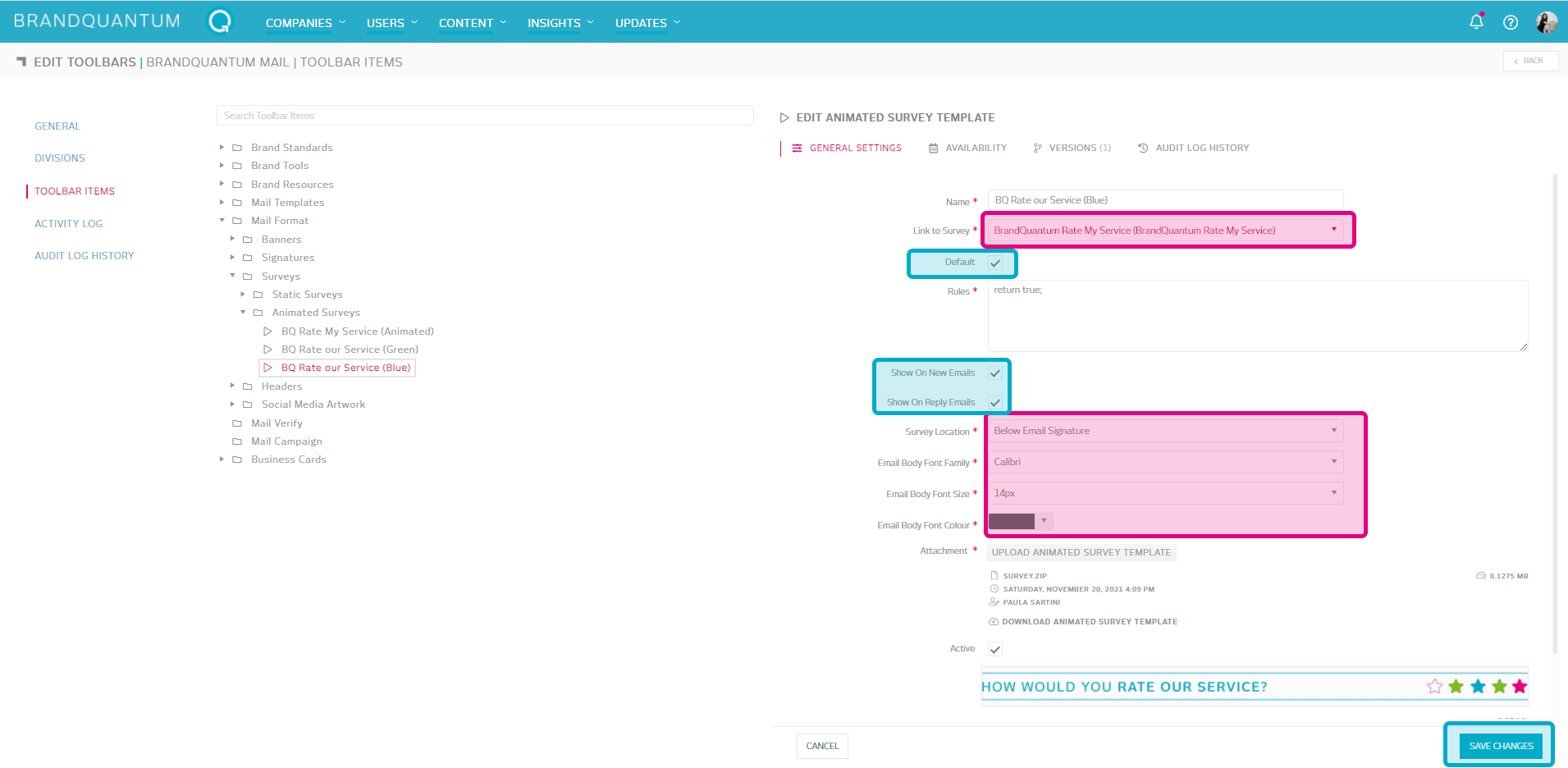 Animated Survey Required Fields
Complete all the required fields by paying special attention to each of these
Name: This name will appear in your dashboard stats and reports, so make sure it's distinguishable

Link to Survey: Select the survey you have already built that the animated survey banner should link to

Default: Only ticket this when you are ready for your animated survey banner to appear automatically on all the relevant user emails

Rules: This should not be modified unless a specific rule needs to drive this survey e.g. if it is only for users in a specific department

Show on New Emails and Show on Reply Emails (select as required)

Survey location: Either below the signature or just above the signature

Email body font: should match the font used for the body of your email signatures
Once an Animated Survey banner is defaulted it will appear indefinitely unless you have set a default start and end date. Set this using the AVAILABILITY tab.
Related Articles

Artwork Specifications for Email Banners

Email banner specifications Email banners may be created in any graphics package and exported to PNG (preferable) or JPG. Banner backgrounds may also be uploaded to the BQIgnite banner designer, with use together with headline placeholders for ...

Adding Animated Email Banners in BrandMail

How to add animated email banners in BrandMail Animated email banners can add interest and draw attention to your branding and email messages. Animated banners have also been shown to increase banner click-through rates. From BrandMail version ...

Creating Email Banners using the Banner Editor

Before getting started with your new email banner in the BQIgnite banner designer make sure you know the width of your signatures (these are usually 700px wide, but may differ depending on your design). This will ensure that your banners are the same ...

Email banner rules

Add email banners with rules Departmental banners If you want email banners to only show for specific users, a department rule will ensure that the email banners only append to the emails sent by users who are part of a specific department. Step 1: ...

BrandStream: Wallpaper Artwork Guidelines

BrandStream: Wallpaper Artwork Guidelines BrandStream allows you to upload and publish wallpapers to your users. The file sizes to cater for are as follows: 2048x1536 1920x1080 2560x1600 3000x2000