How do I deactivate a user?
Deactivate a user in BQIgnite Admin Console
When users move from your organisation, it may be necessary for you to deactivate them. Users are not deleted in the Admin console due to audit trail requirements.
Only Administrators are able to deactivate (or reactivate) users (or add or remove access to a product).

NB: If you are using Azure Active Directory to manage your users please DO NOT deactivate your users in the BQIgnite Admin console (since they will simply be reactivated once your AAD syncs). Please deactivate (do not delete) your users in your AAD Group. Your user will automatically be deactivated upon the next sync between your AAD group and the BQIgnite platform. See
Disable or deactivate a user in AAD
.
If you are manually managing users:
Access the BQIgnite platform using your admin credentials
Search for the user under the USERS section
Double click on the user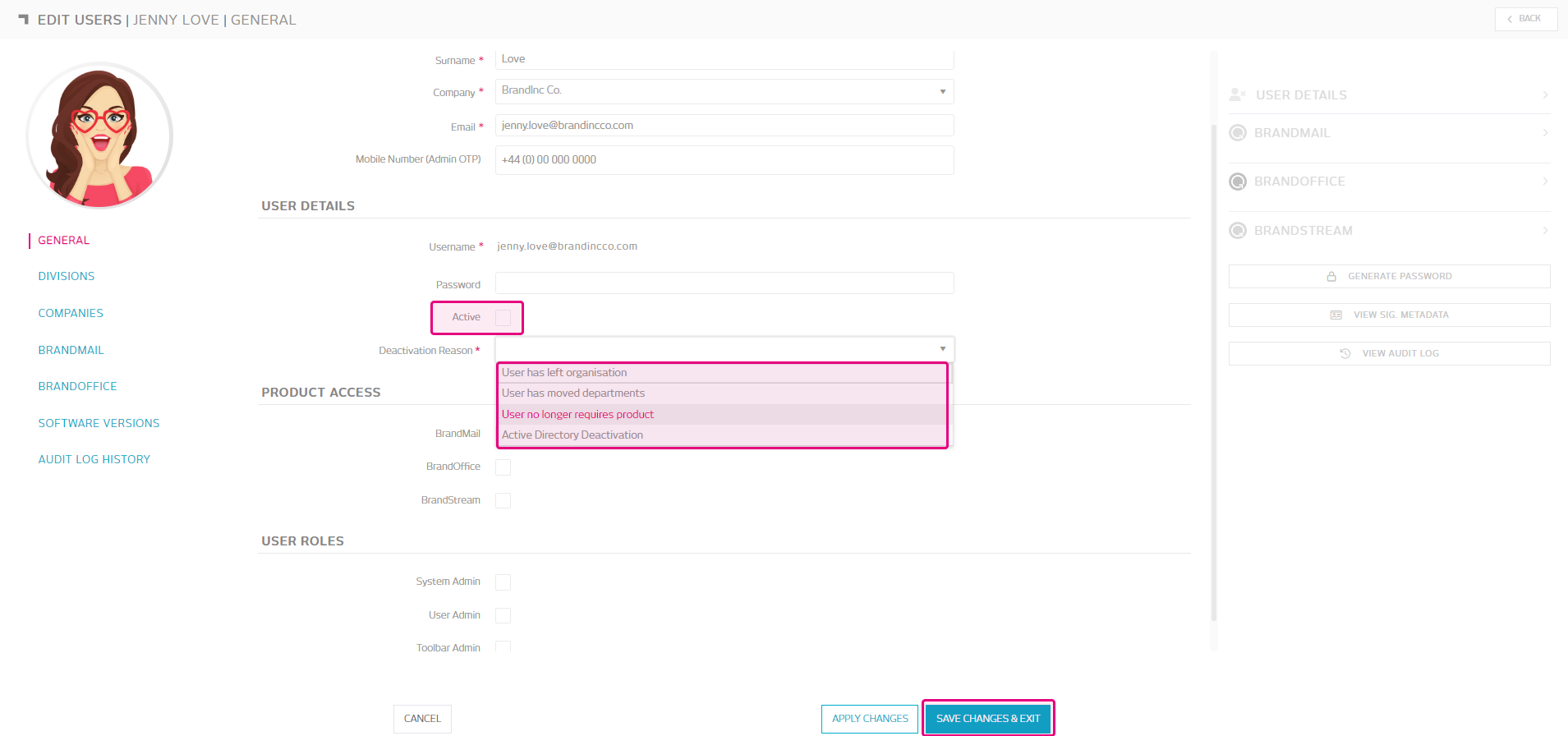 4. Untick the user active check box

5. Select the deactivation reason

6. Save Changes

You do not need to remove product access first. Deactivating the user will unlicense the user from the products to which they have had access to.
Your user is now deactivated.


Related Articles

Disable or deactivate a user in AAD

How to disable or deactivate a user in the Azure Active Directory portal This article applies to you if you manage BrandQuantum users in the BQIgnite Admin Platform via an Azure Active Directory group. Use this when: A user no longer requires ...

Adding Users via Import

Adding users into the BQIgnite Admin console may be done in three ways: 1. Automatically via an Azure Active Directory Integration 2. Manually (one record at a time) 3. User Import of Data Adding Users via Import: 1. Log into the BQIgnite Admin ...

Access the BQIgnite Admin Console

Before getting started, please ensure that you have sufficient permissions, either as a User Administrator, Toolbar Administrator or user (if you are just logging in to update your email signature information). Your organization may be set-up in one ...

Add an administrator to BQIgnite platform

How to add an administrator to BQIgnite Various levels of administration exist in the BQIgnite platform. System admins System admins are designated BrandQuantum administrators with the necessary system and security privileges. User admins User ...

BQIgnite | User Reports Available

User Reports The following reports are available to Administrators: Name Detail Fields Parameters Users Report This report provides you with a full list of users in the system, whether active or not active, as well as the date on which the user was ...