Execute Azure Active Directory Sync
Once your Azure Active Directory Group links have been set up, they will automatically synchronize at the predefined period intervals (the default is 480min, or every 8 hours).

Sometimes, there is a need to immediately bring users into the platform. This is possible, without needing to wait for the normal sync, by executing the active directory job, as follows: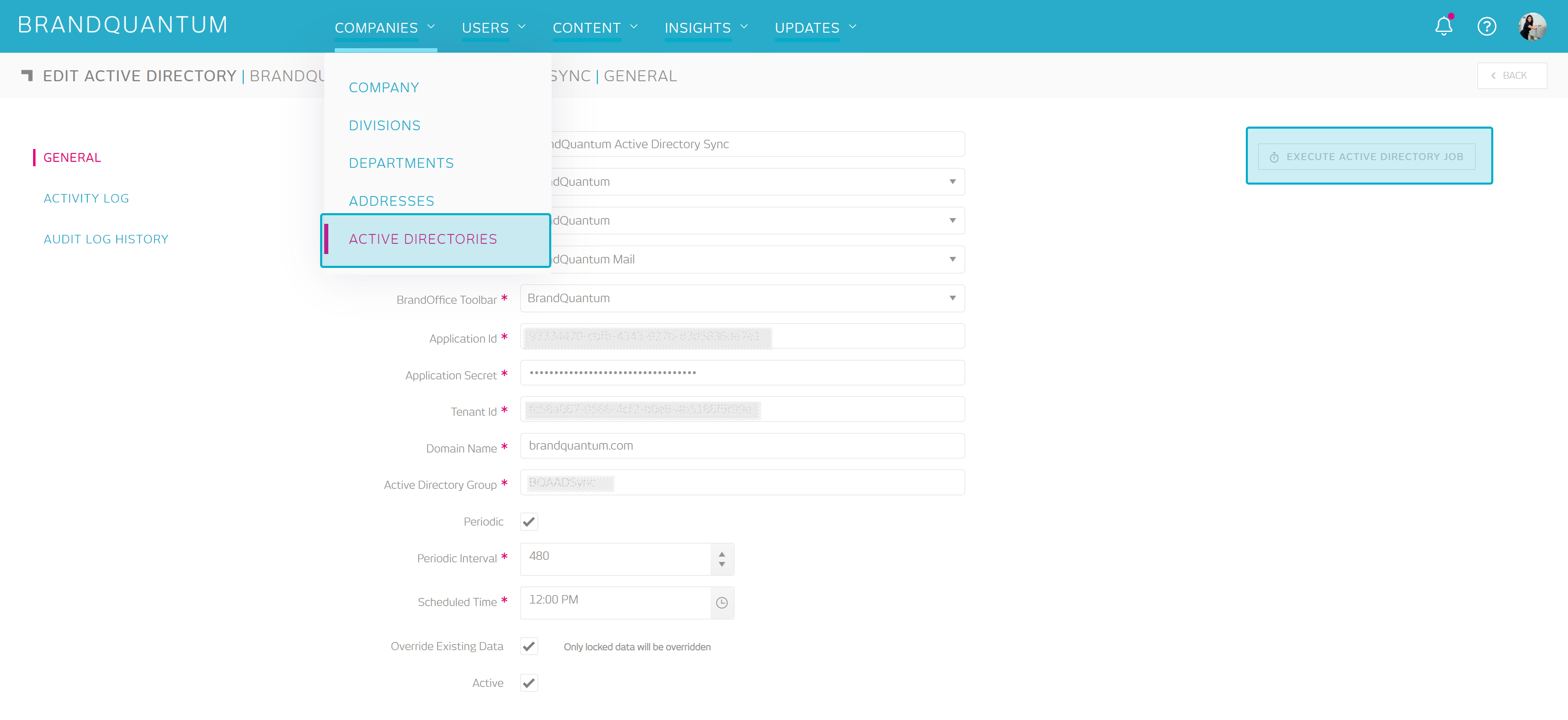 Execute Active Directory Job
Navigate to your Active Directories

Open the AAD Group you would like to execute

Click EXECUTE ACTIVE DIRECTORY JOB
In order to view the audit log:


Refresh Log Entries
Click on ACTIVITY LOG and then REFRESH LOG ENTRIES.
Related Articles

Azure Active Directory Integration: Setting up a link between AAD and BQIgnite.com

How do I set up a link between Azure Active Directory and the BQIgnite platform? The user information in BQIginite.com, for use across our various applications, can be brought into the platform in the following ways: Manually captured Excel Import ...

BQIgnite | User Reports Available

User Reports The following reports are available to Administrators: Name Detail Fields Parameters Users Report This report provides you with a full list of users in the system, whether active or not active, as well as the date on which the user was ...

Locking Job Titles so users can't change them

How to lock down the Job Title Field The Company Settings section allows you to control the various fields available for use on the signature metadata used for email signatures. It also controls which fields are available in the BrandMe page which ...

How to Force a Company Sync

How do you force a company sync? There are many times when you may want to perform a forced company sync. These could include: A change to important statutory information on documentation (e.g. directors on the bottom of a letterhead), disclaimers, ...

How to Force a User Sync

How do you force a user sync? There are many times when you may want to perform a forced user sync. These could include: You have made changes to the signature metadata and you would like the user to receive these before the normal sync cycle ...