How to set up BrandMail Lite Mail Flow for Google Workspace

BrandMail Lite allows you to brand emails from your organization via a mail flow rule, which appends email signatures, banners and surveys to organizational emails sent by users when you use Google Workspace as your main email architecture environment.

If your users have the desktop version of BrandMail (Windows) emails sent from the desktop version will continue to flow directly from the workstation to recipients. BrandMail Lite will then take care of branding emails sent from mobile devices, tablets as well as those sent by Mac users.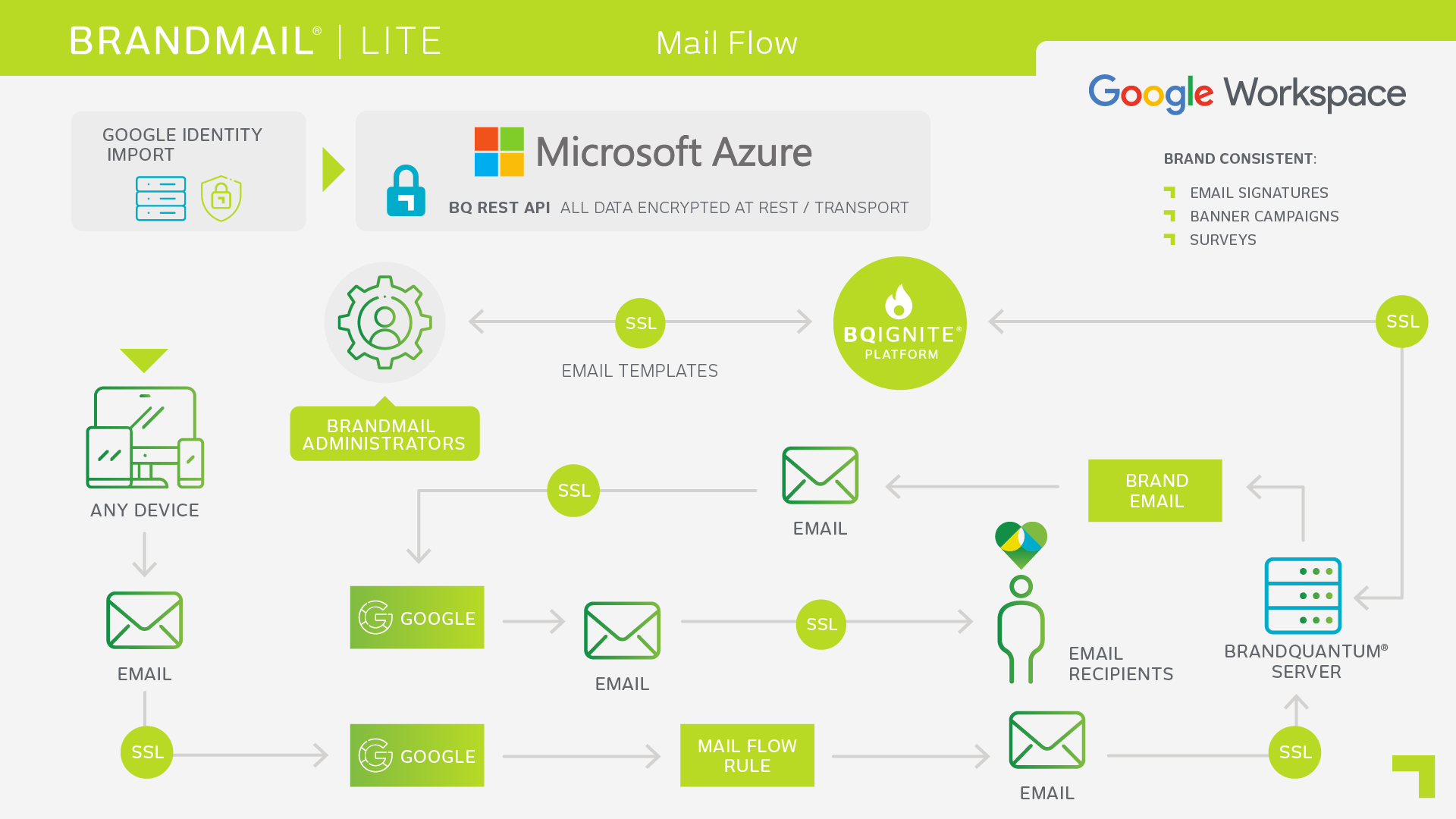 BrandMail Lite for Google Workspace Architecture
Overview
Setting up BrandMail Lite for Google Workspace consists of the following steps:

1.
Adding a new host
, to
allow your email to be routed to BrandMail Lite
2. Routing to BrandMail Lite by adding a mail flow rule

3.
Receiving from BrandMail Lite
by configuring
the SMTP service
4. Updating your SPF record
Add a new host

Adding a new host allows your email to be routed to BrandMail Lite.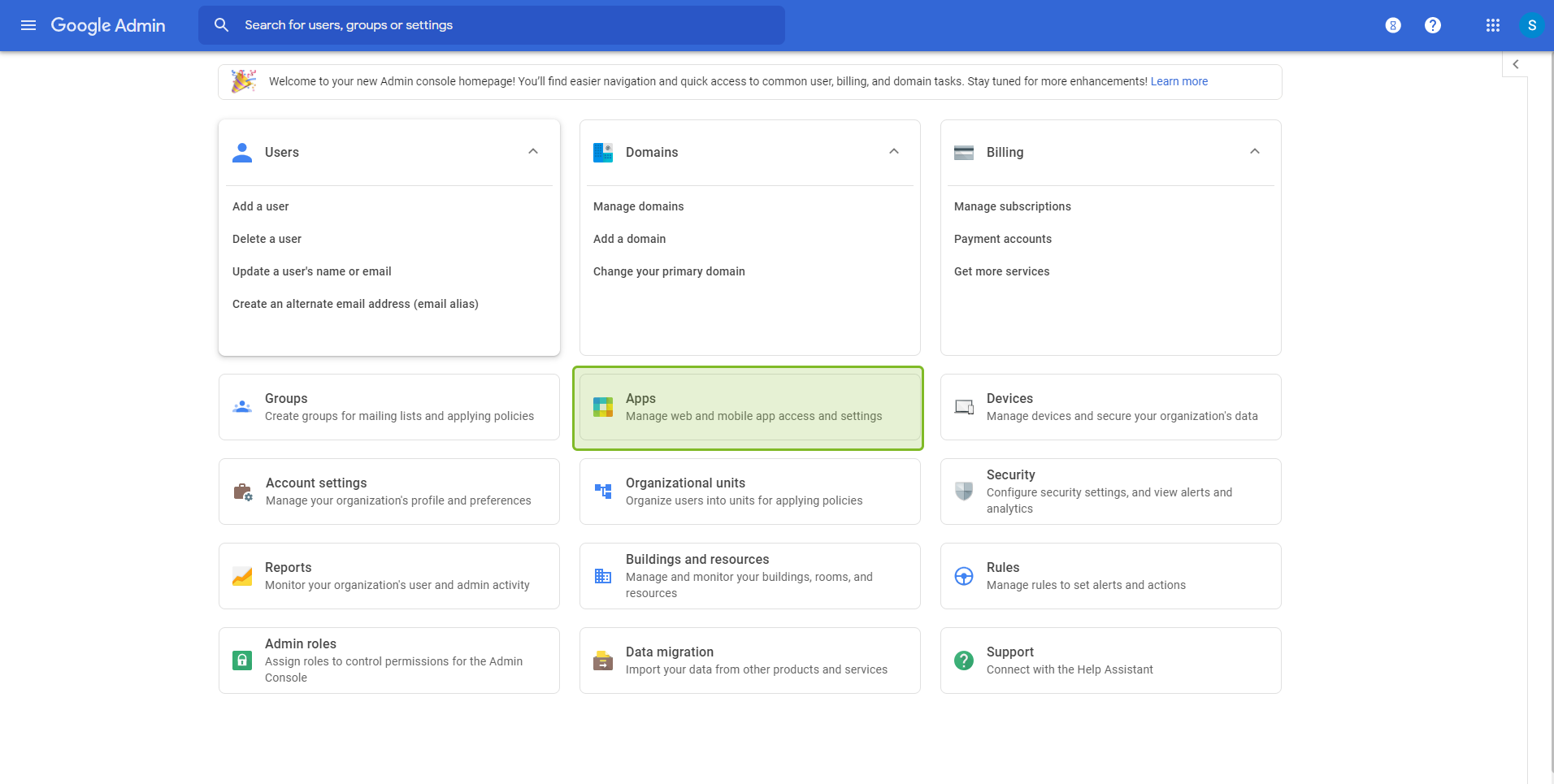 2. Click on Google Workspace


3. Highlight GMAIL (don't tick)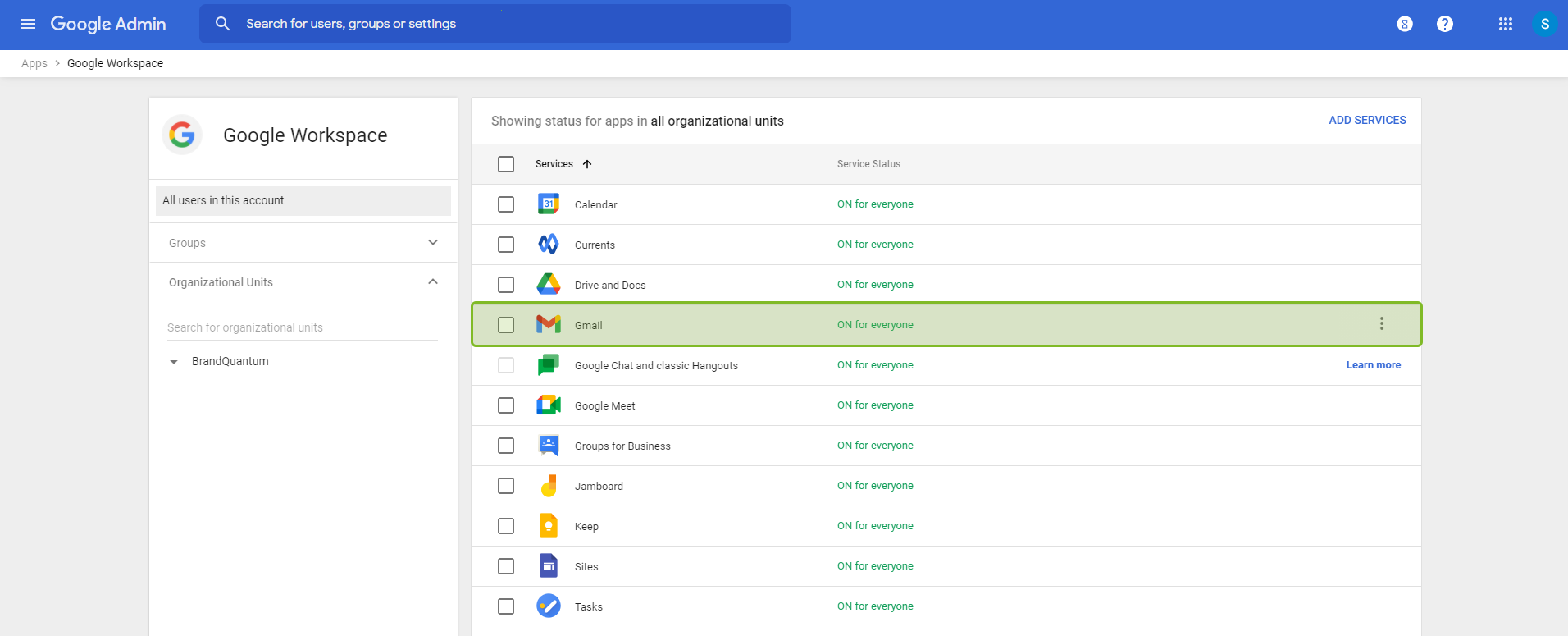 4. Click on Hosts


5. Click on ADD ROUTE


6. Select the correct security checkboxes as per the screenshot below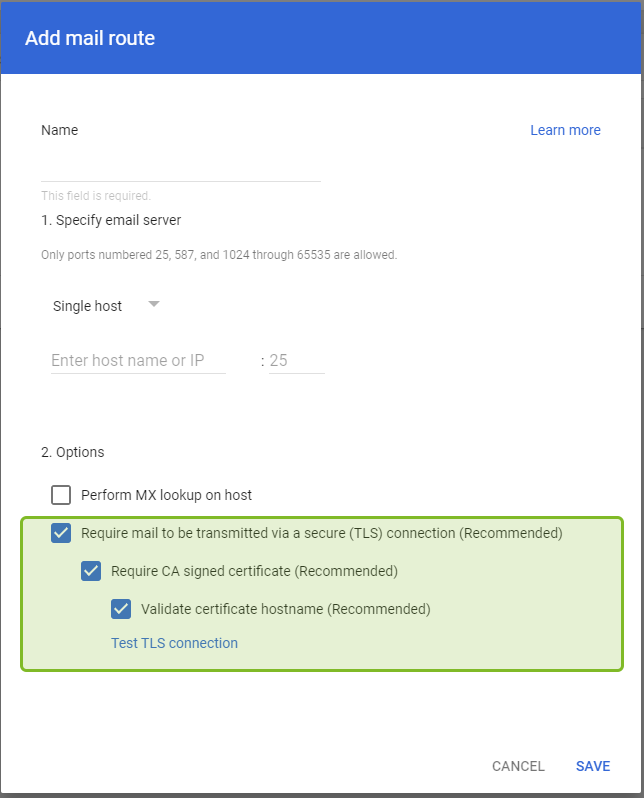 7. Name the mail route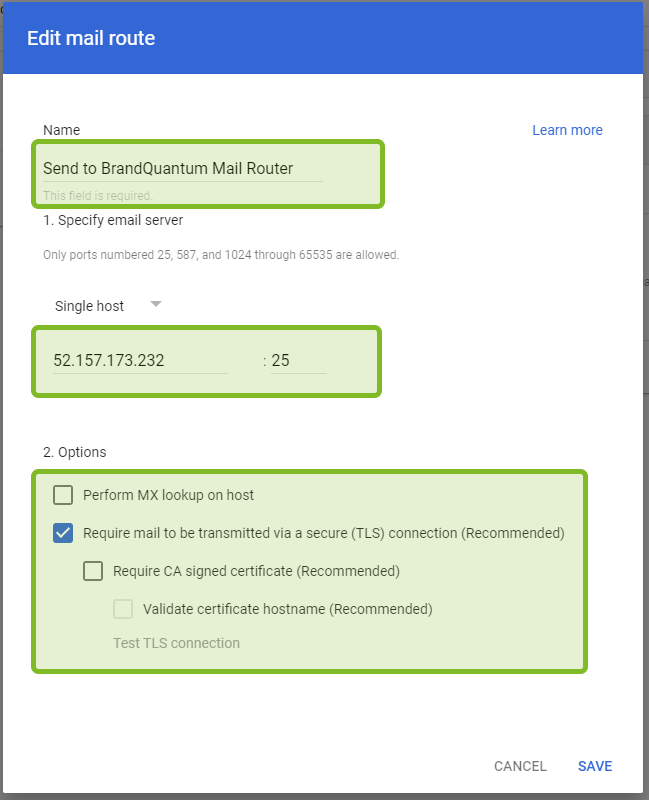 Name: Send to BrandQuantum Mail Router

Single host: 52.157.173.232

Port: 25

Click SAVE

Routing to BrandMail Lite

To route emails to the BrandMail Lite servers:

8. Select Compliance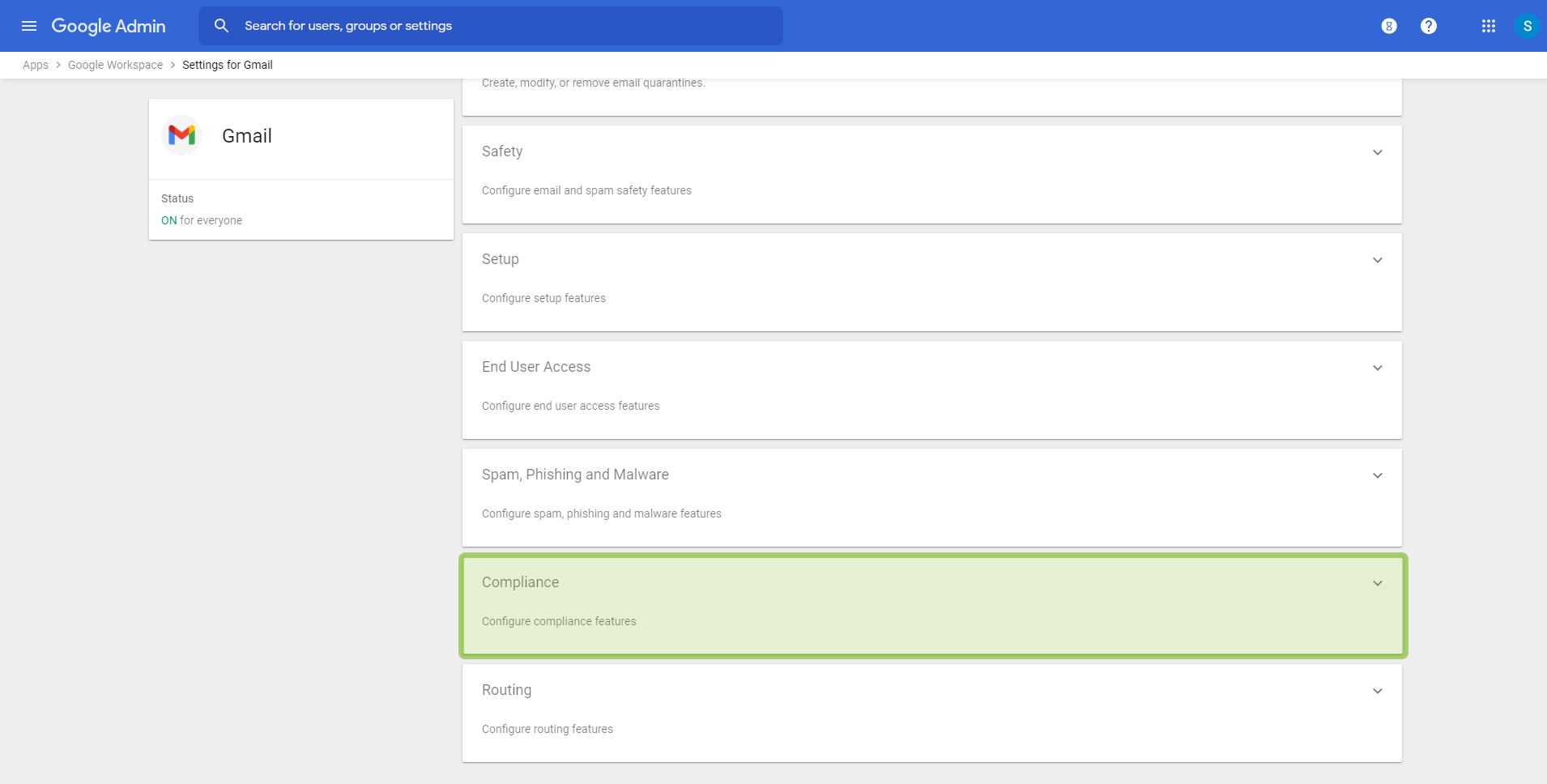 9. Scroll to Content Compliance and click CONFIGURE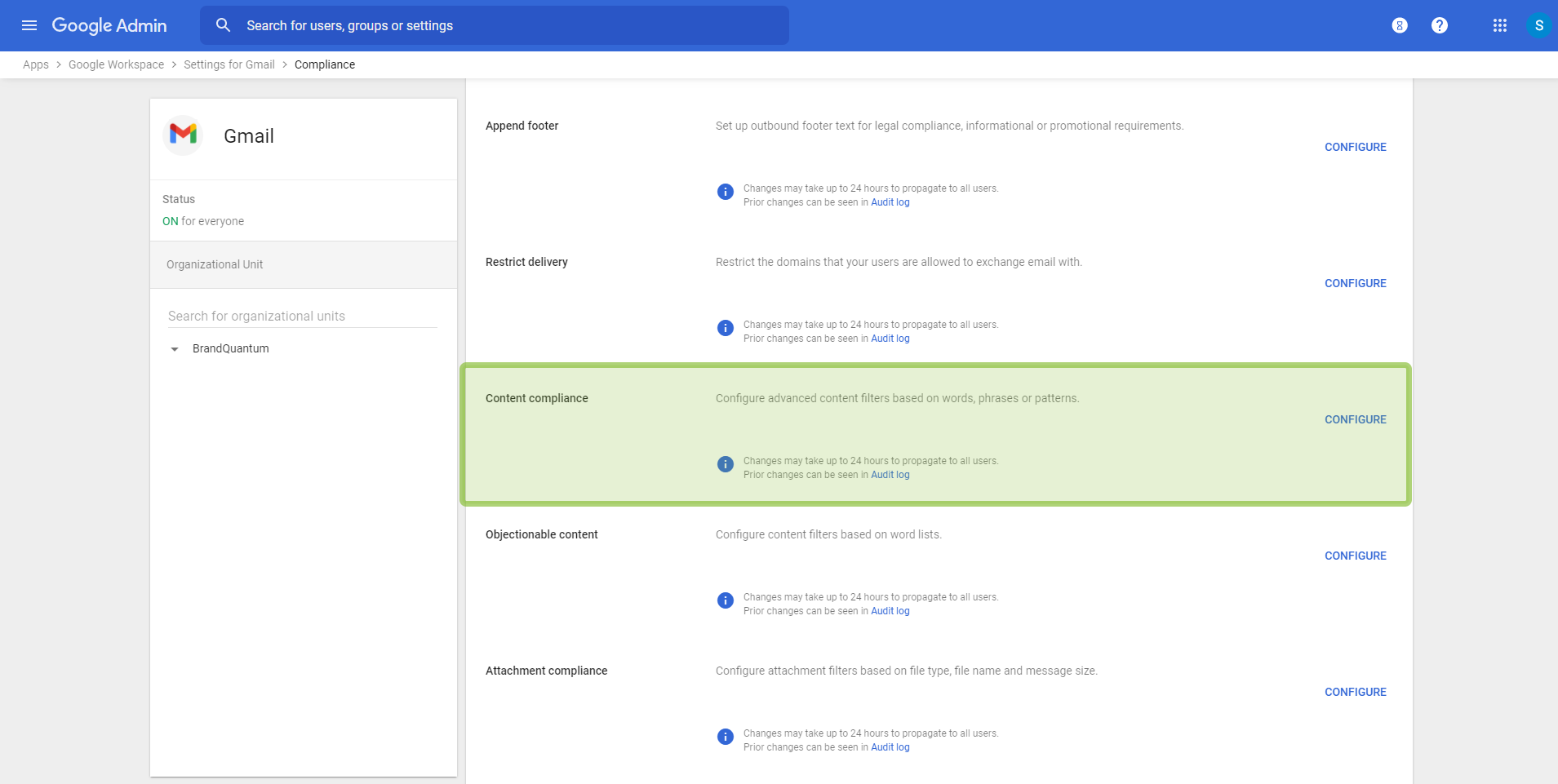 10. The ADD SETTING dialog will display.


In Content compliance add the following descriptor: Send to BrandQuantum Mail Router


In point 1 (Email messages to affect), select:

outbound

Internal - Sending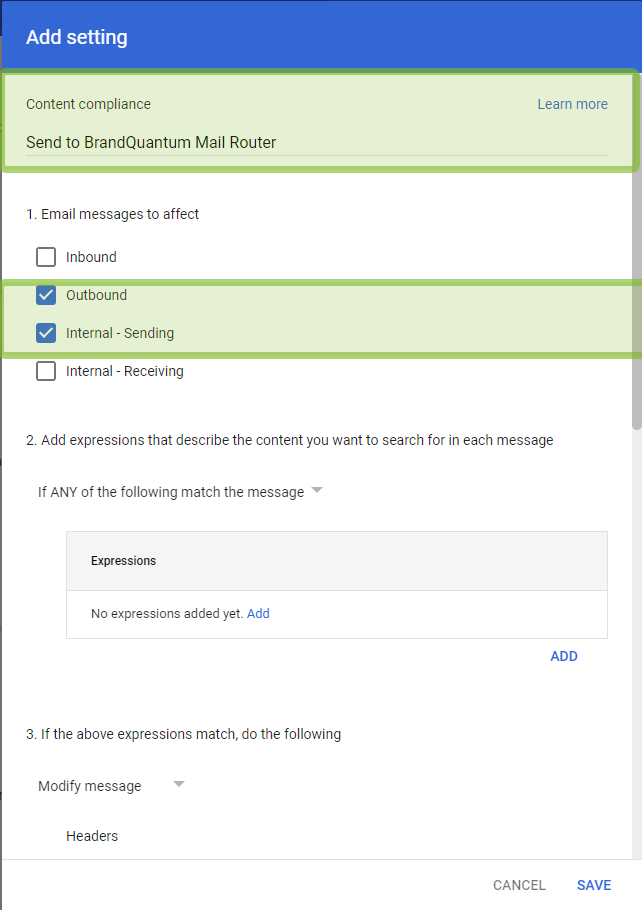 11. Under Expression click ADD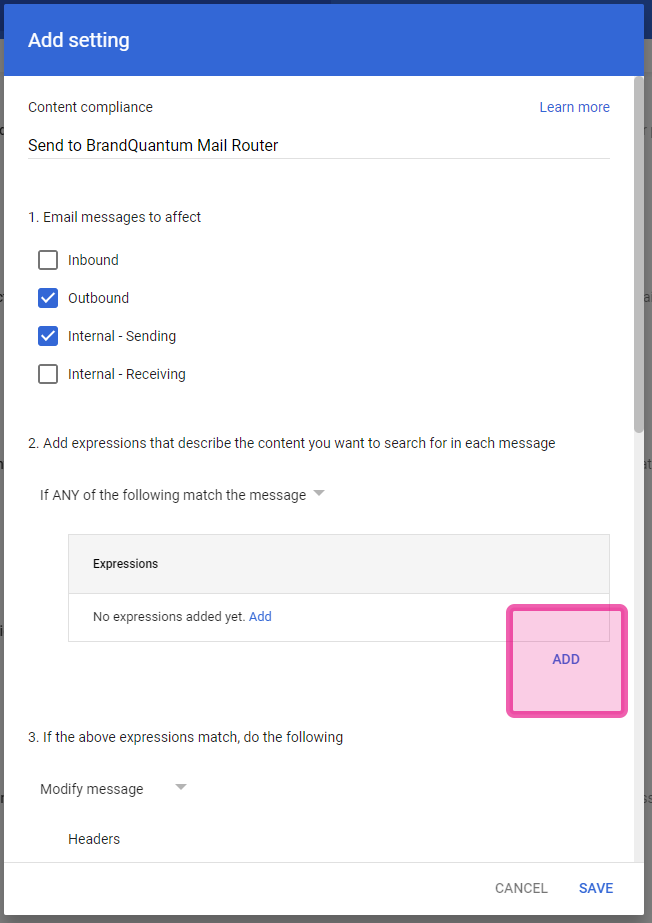 12. In the Simple content match drop-down, select Advanced content match

13. Complete the following settings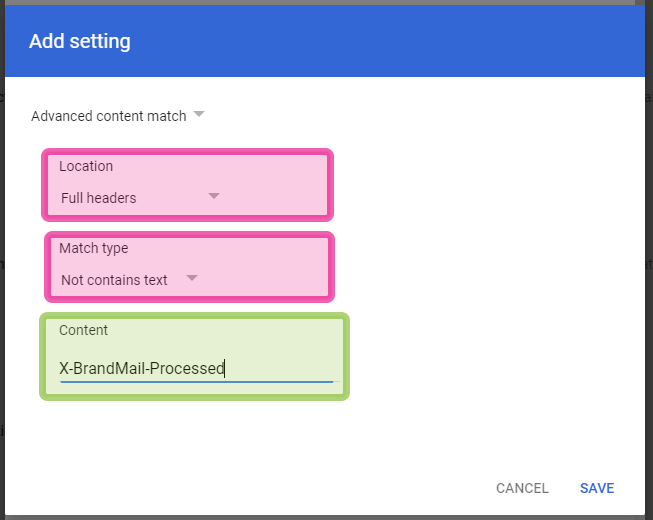 From the Location drop-down, select Full headers

From Match type drop-down, select Not contains text

In Content, enter: X-BrandMail-Processed

Click SAVE to save the settings and return back to the Content Compliance Add setting window.

The Expression will now appear in the Expressions box.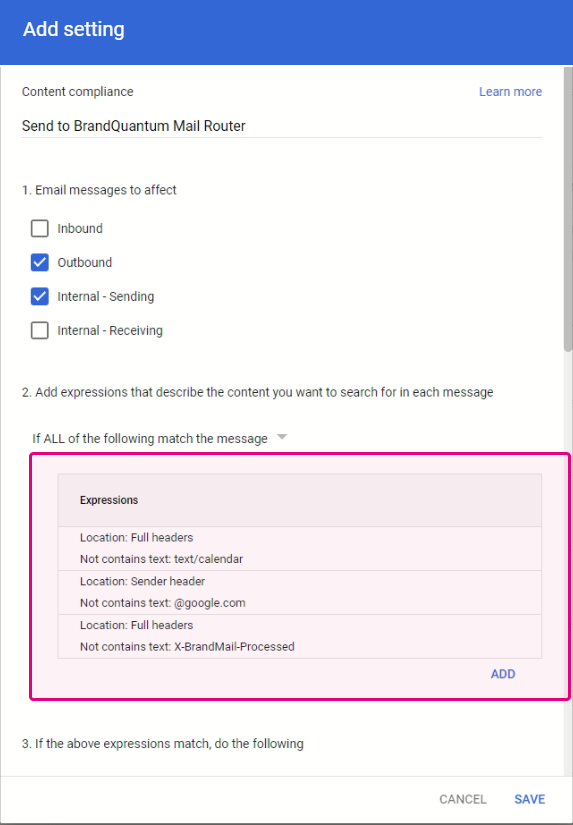 Ensure that all the expressions above are included.
15. Scroll down to Route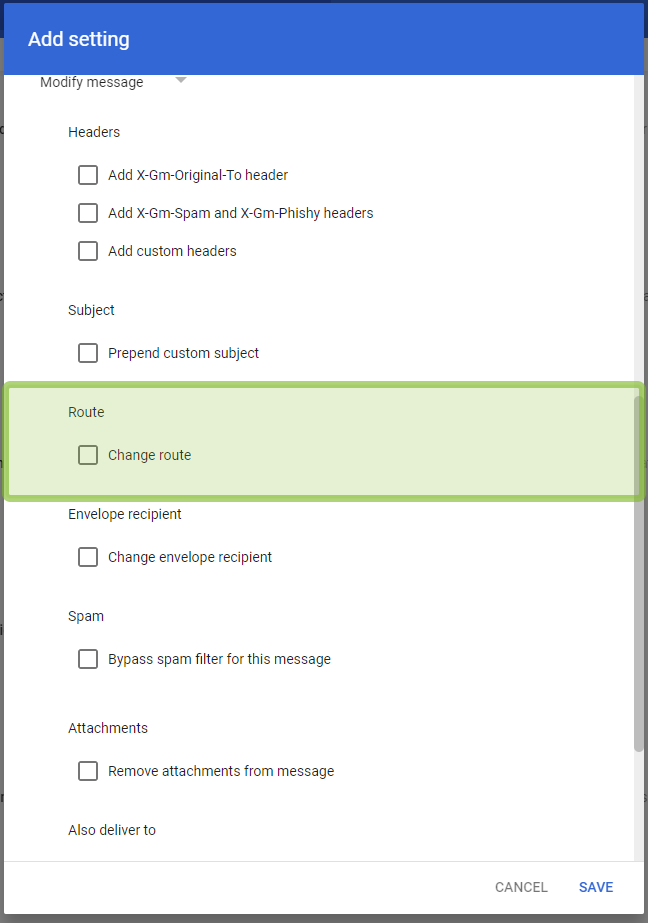 16. Select Change route and in the drop down, select Send to BrandQuantum Mail Router and select Require secure transport (TLS). Click SAVE.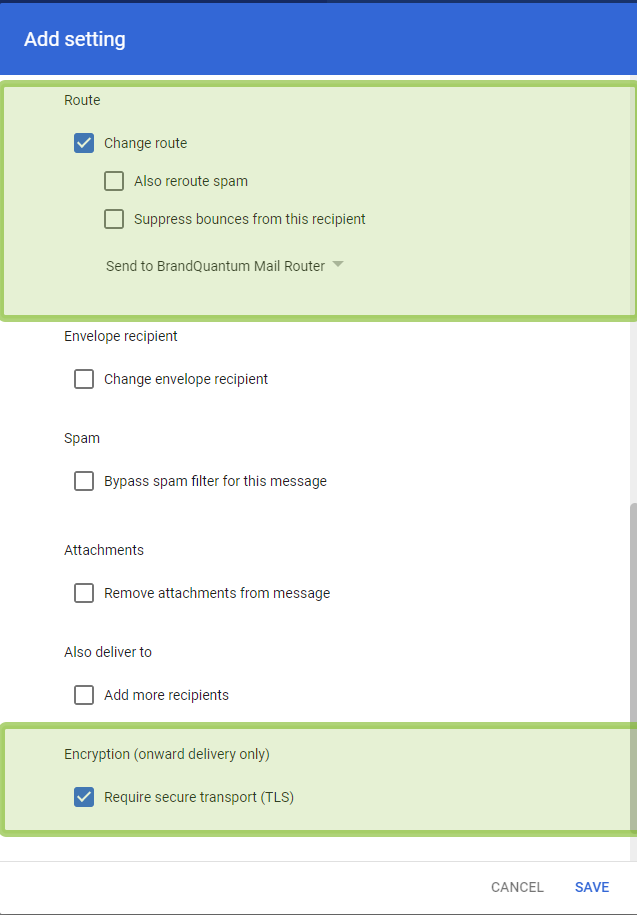 17. The new rule now appears under Content compliance.


Receiving email from BrandMail Lite

To receive emails back from BrandMail Lite (for routing to end recipients) please configure the Simple Mail Transfer Protocol (SMTP) relay service following these steps:

18. From the Settings for Gmail listings page, scroll down and select Routing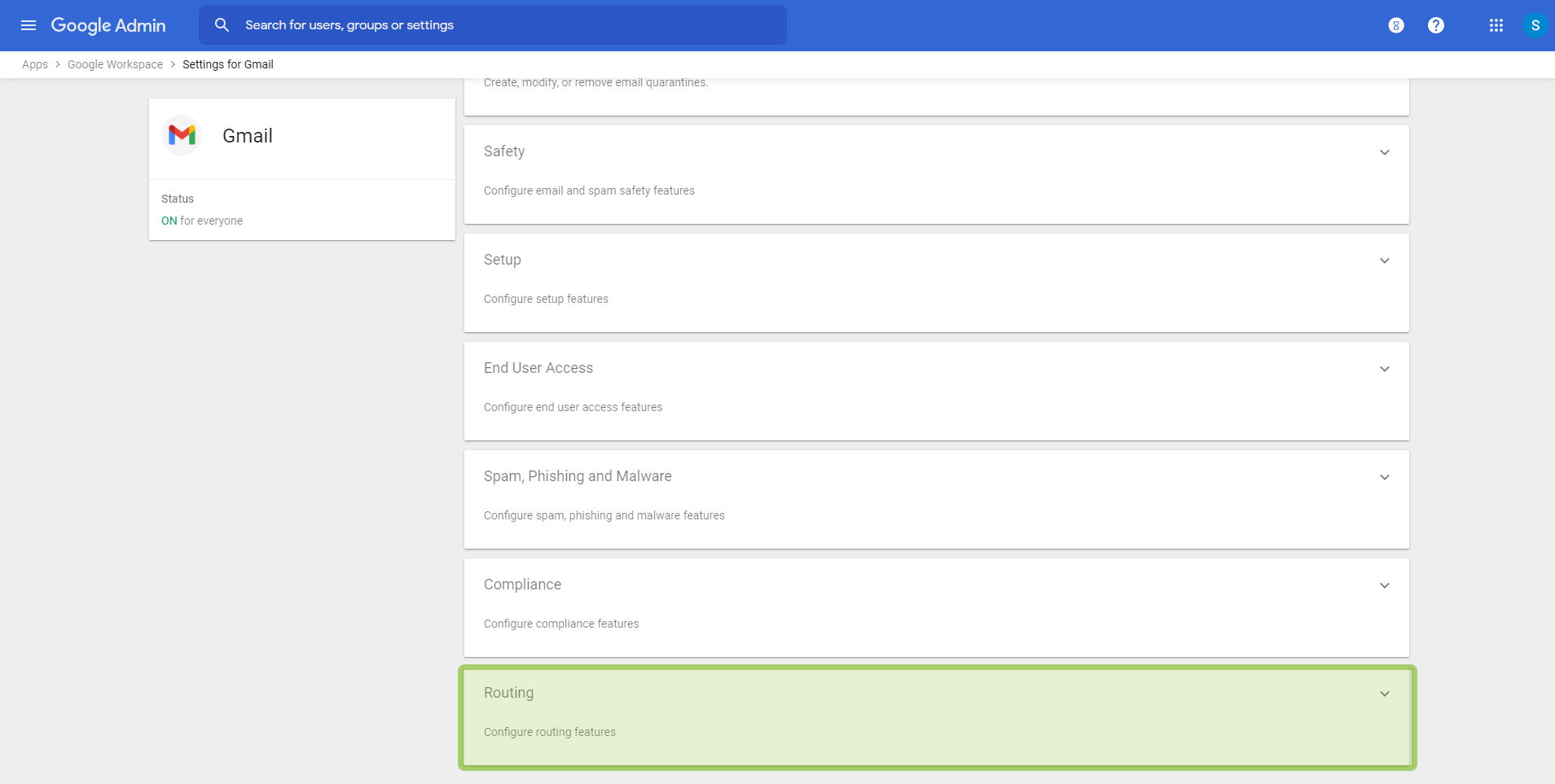 19. Scroll down to SMTP relay service and select CONFIGURE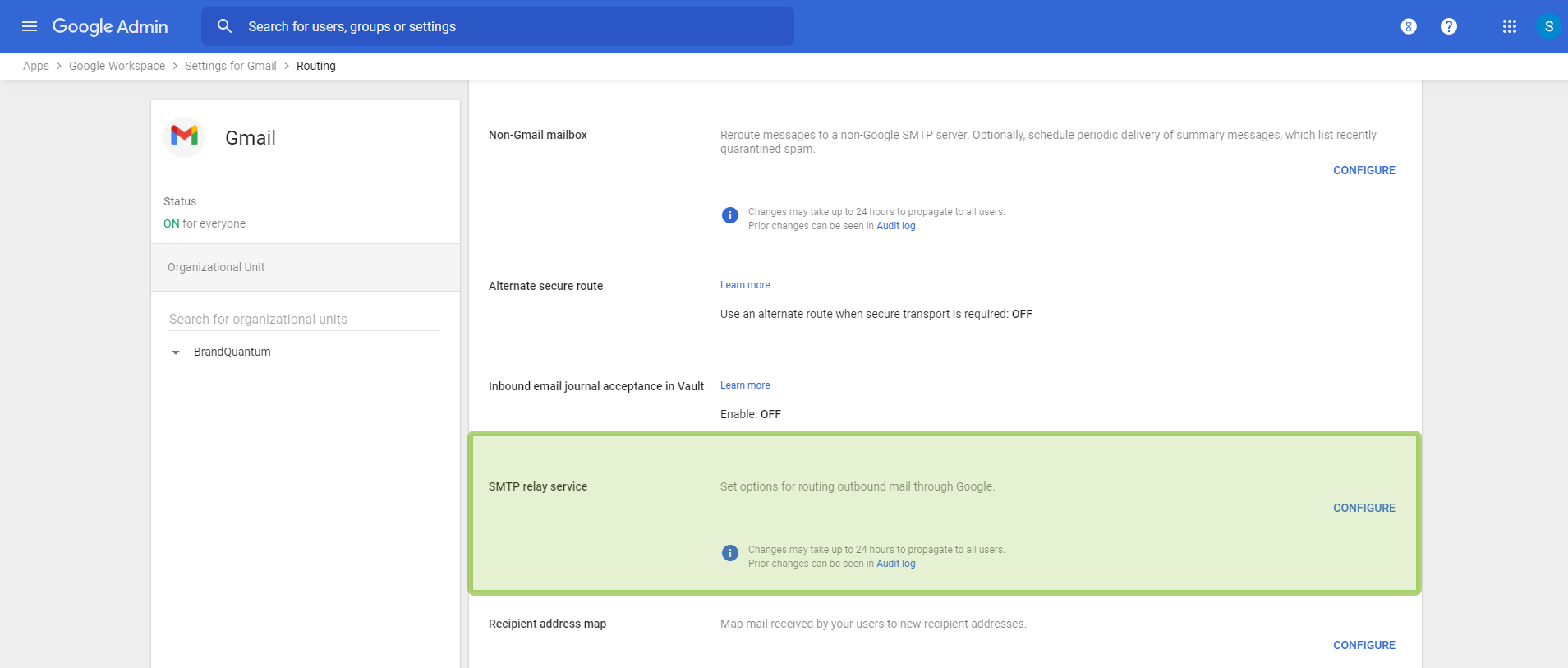 20. The Add setting window is displayed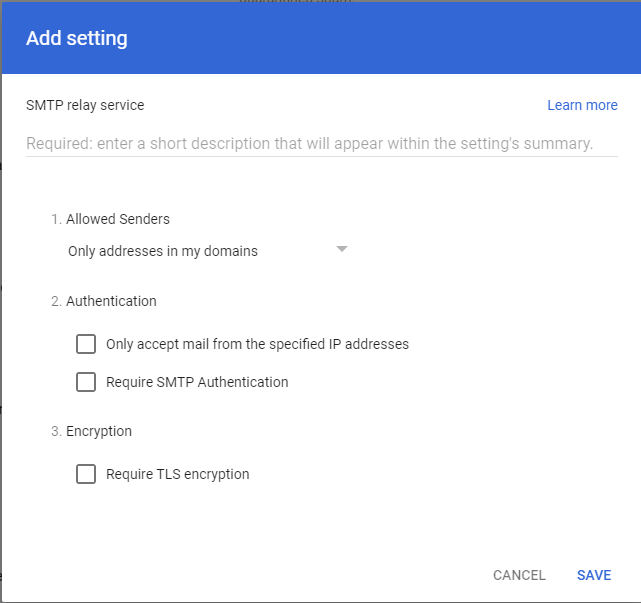 21. Add setting
In SMTP relay service add: Receive from BrandQuantum Mail Router

In allowed senders: Only addresses in my domains

Authentication: Select Only accept mail from the specified IP addresses

Click ADD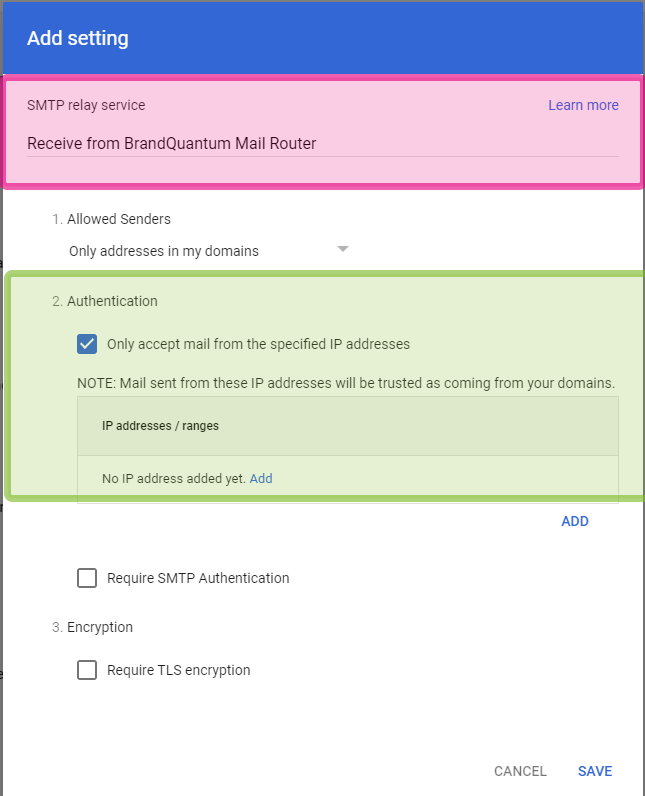 22. In Description add: BrandQuantum Router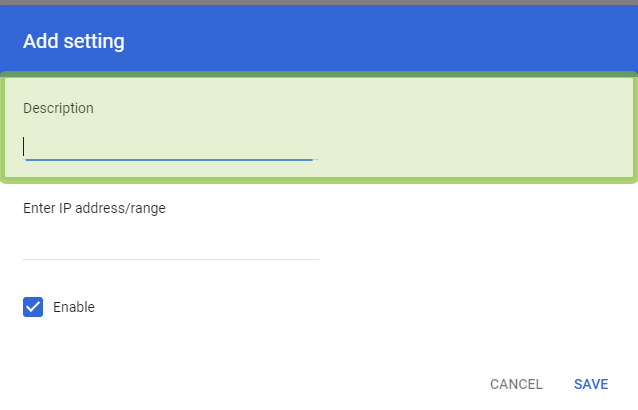 23. Enter IP address/range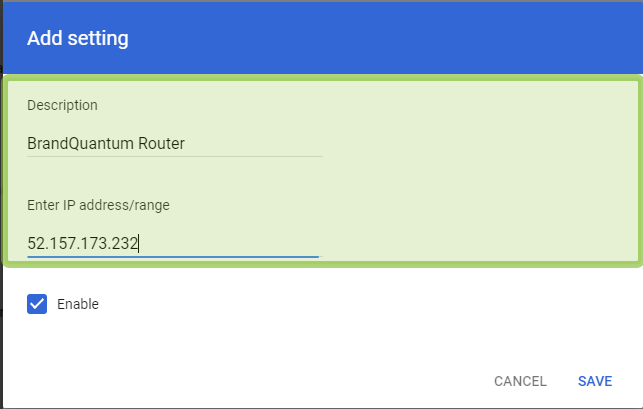 IP address/range: 52.157.173.232
Click SAVE

24. In encryption select: Require TLS encryption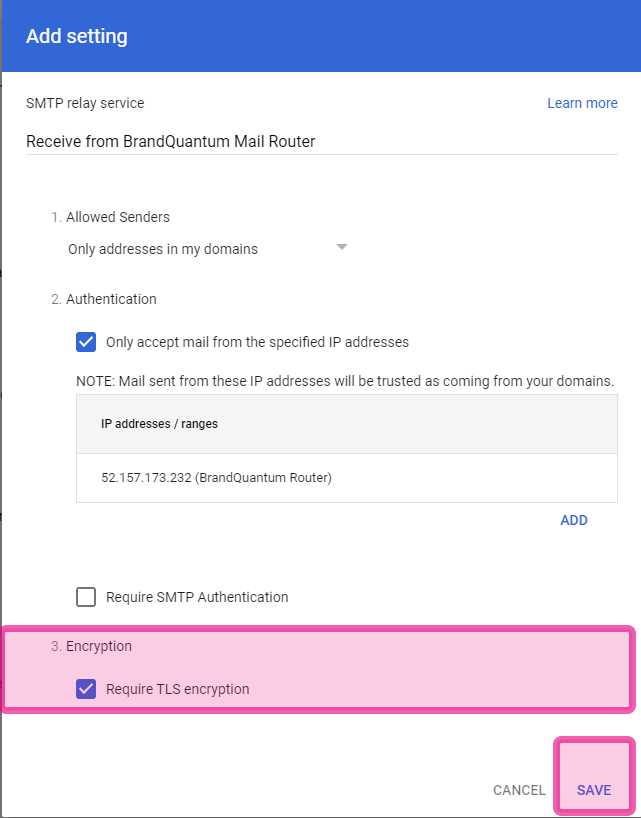 Click SAVE

25. The newly configured SMTP relay service appears, as per the screenshot below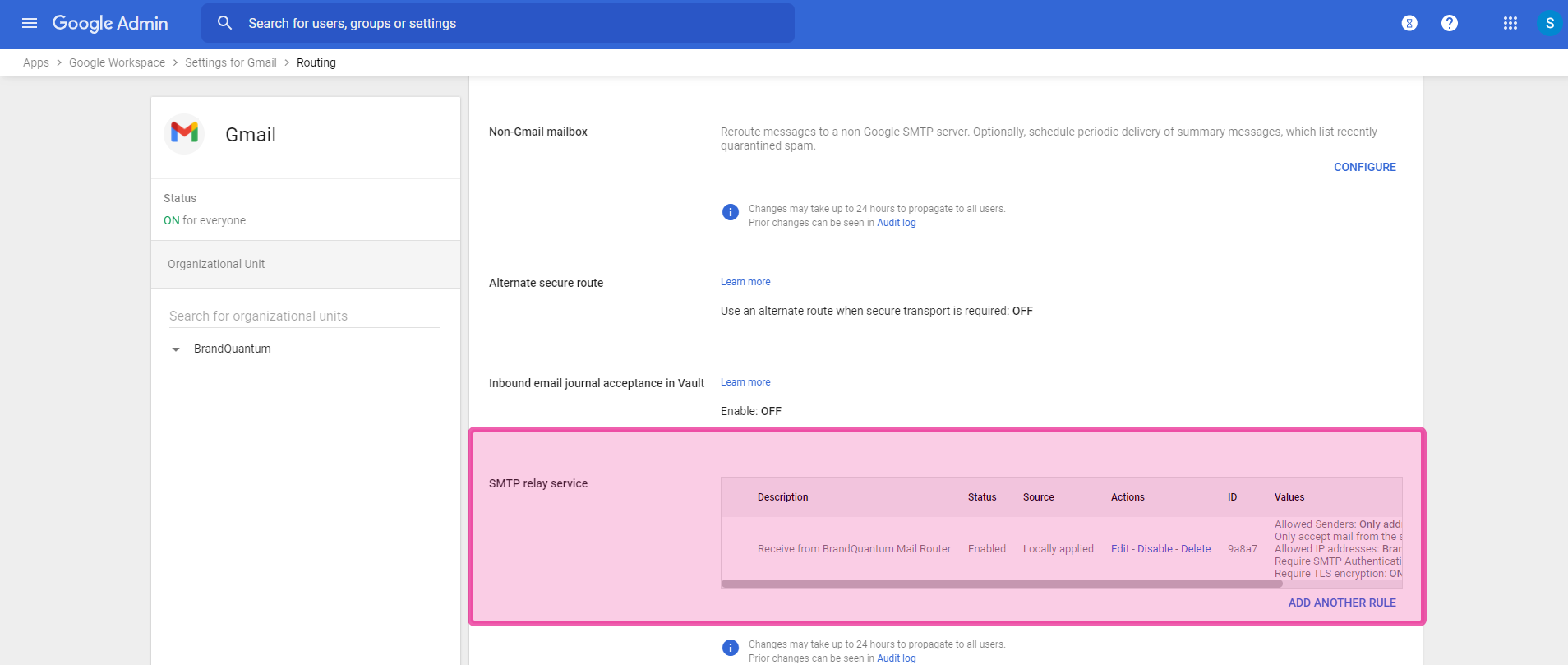 You have now successfully configured receiving emails form BrandMail Lite.

Please ensure you click SAVE at the bottom of the page for all changes to take effect. Changes can take up to an hour to become active.

VERY IMPORTANT: Once you have completed the BrandMail Lite configuration, please update your SPF (Sender Policy Framework) record, to ensure that no emails are marked as spam.
Updating your SPF record
Updating your SPF record ensures that your emails will not be marked as spam. Depending on which IP you are routing through, please include one of the following IPs in your SPF record:

BQIgnite Azure Europe:
52.157.173.232
BQIgnite Azure Africa:
102.37.100.99